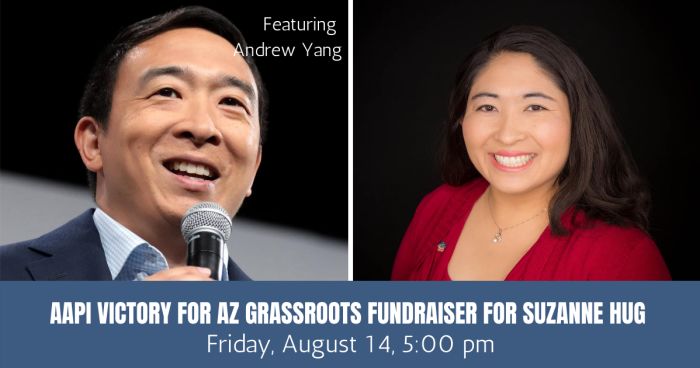 Join Andrew Yang on Friday, August 14 at 5:00 pm AZ/PT for an online community conversation and fundraiser for LD 25, AAPI Democratic candidate, Suzanne Hug. Grassroots fundraiser tickets for the event are $10.
All the money raised will help Suzanne Hug defeat the Arizona Republican Speaker of the House. This race is key to turning AZ Blue. Look for your zoom link in your email after you register.
"

         It's time to take back our City Halls and State Houses. We are in the midst of a crisis that is tearing our communities apart. Local government is where community-defining decisions are made every single day. One way to mainstream policies such as Universal Basic Income is by supporting candidates at the local level who will fight for a human-centered society. These are the leaders who will grow our grassroots movement. You've heard me speak about creating a trickle-up economy. Now, let's create a trickle-up government too.
-Andrew Yang, former Presidential Candidate and Founder of Humanity Forward         

"
Can't attend? Make a donation instead! Help us reach Mesa voters to encourage them to Vote Safe and Vote Smart.