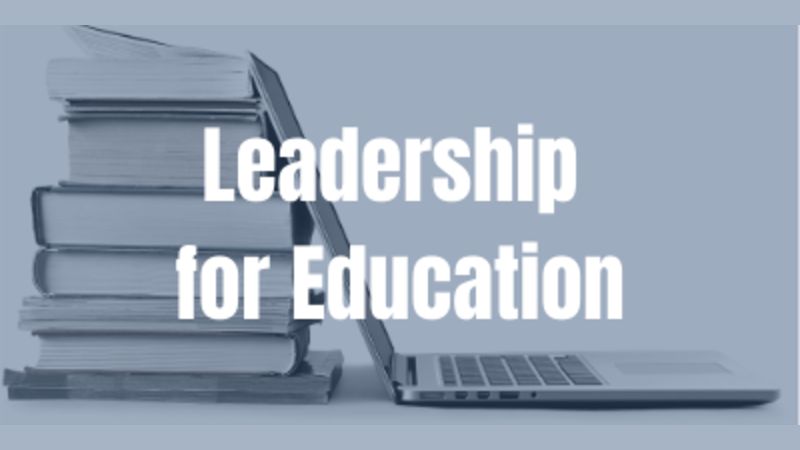 Suzanne Hug, AZ House of Representatives LD25 candidate, emailed a letter to the Members of Mesa Unified School Board today, attaching the list of nearly 1000 parents, students, and residents of MUSD who request to keep school online until all safety guidelines are met.
Dear Board members,
Courage takes many forms. It takes courage to do the right thing, even when it's hard. Following the CDC and state reopening guidelines is the right thing to do. Committed parents are making distance learning work. It's different, and it has its bumps, but they know this is the right choice during this once-in-a-century public health crisis. Children are still learning, and one of the most important lessons they are receiving is that their civic and social duty is to protect each other.
Each one of you, as a civil servant, has promised to fulfill your role in the best interest of the children, families, teachers, and constituents of Mesa Public Schools. We urge you to keep lessons online until we have met ALL the safety benchmarks. Reopening early is not a return to "normal", it is an abdication of principle and responsibility.
Most of us haven't written before because the Mesa School Board has been making the right decisions so far. This may have led to a false impression that the loudest voices were also the majority. Let me correct that now. As the community members of Mesa Unified School District, we expect you to keep us distanced, keep us safe, and keep following the data. Most importantly, we expect you to keep school online until all safety benchmarks have been met.
Thank you in advance, Suzanne Hug and 987 parents, students, and members of the UMSD community.
(Blog post header image description: In the background, on the left, a pile of books. On the ride, an open laptop. The text reads leadership for education. Photo description: On the background, a reporter and a camera person are interviewing a person wearing a red t-shirt. On the foreground, a car with a message on the back window. The part of the message that we can read says rampant infection rates compromise everyone! Open when it's safe.)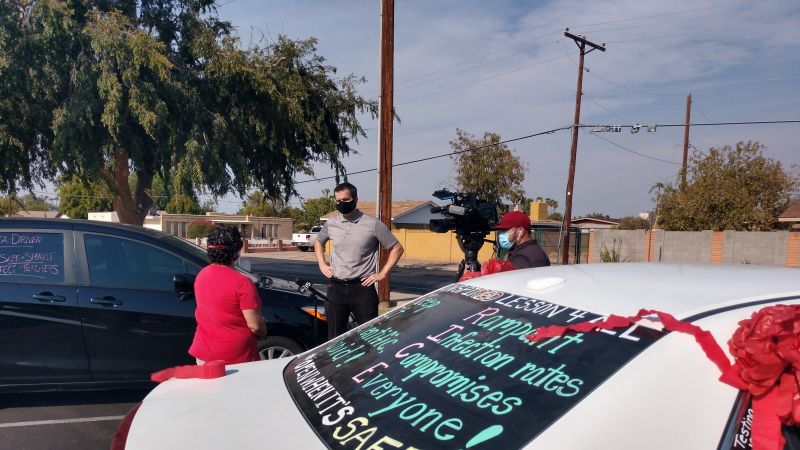 Respetables miembros de la Mesa Directiva:
El valor toma formas diversas. Es necesario ser valiente para hacer lo correcto, incluso cuando es difícil. En este momento, lo correcto es seguir los lineamientos del CDC y las métricas para reabrir el estado. Las madres y los padres comprometidos están haciendo todo lo posible para que funcione la educación a distancia. Es diferente y representa muchos retos, pero sabemos que es la decisión correcta durante esta crisis histórica de salud pública. Nuestras hijas e hijos están aprendiendo, y una de las lecciones más importantes que están recibiendo es que su deber cívico y social es protegerse unos a otros.
Cada una y cada uno de ustedes, como servidores públicos, han prometido desempeñar su función como miembros de la Mesa Directiva en el mejor interés de las niñas y niños, las familias, docentes y la comunidad en general de Mesa Public Schools. Les pedimos que mantengan las lecciones en línea hasta que hayamos alcanzado TODAS las métricas de seguridad. Reabrir prematuramente no es volver a "la normalidad", es abdicar la responsabilidad que ustedes tienen con su comunidad.
La mayoría de quienes firmamos esta carta no les habíamos escrito antes porque, hasta ahora, consideramos que Mesa School Board ha estado tomando las decisiones correctas. Pero esto puede haber dado la impresión equivocada de que las voces que gritan más alto representan la mayoría de nuestra comunidad y no es así. La comunidad de Mesa Unified School District tiene la expectativa de que ustedes nos mantengan en distanciamiento social, nos mantengan a salvo, y sigan la información científica disponible. En suma, tenemos la expectativa de que mantengan la escuela en línea hasta que se hayan cumplido todas las métricas de seguridad para volver en persona.
Gracias de antemano.
Suzanne Hug y otras 987 madres, padres, estudiantes y miembros de la comunidad de MUSD
(Descripción de la imagen en el encabezado de este post: Al fondo, a la izquierda, una pila de libros. A la derecha, una laptop abierta. El título dice Leadership for Education, Liderazgo para la Educación. Descripción de la foto: Al fondo, un reportero y un camarógrafo entrevistan a una persona que lleva una camiseta roja. Al frente, un coche tiene un mensaje escrito en la ventana trasera. La parte que se puede leer dice: rampant infection rates compromise everyone! Open when it's safe/las tasas de infección altas ponen a todos en peligro. Abran solo cuando sea seguro.)