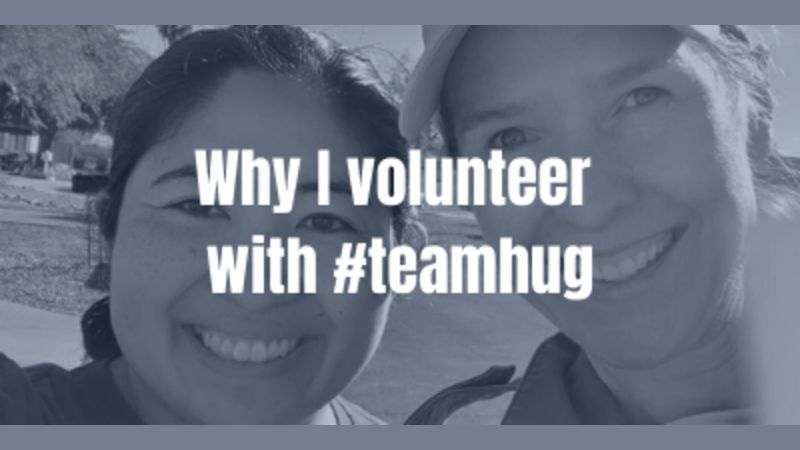 "I had grown tired of complaining on social media about my elected officials and so I had signed myself up to actually do something." #teamhug volunteer Samantha, shares her reasons to volunteer with #teamhug and take action to get Suzanne Hug to the AZ House of Representatives in 2020.
Image description: In the background, Suzanne and Samantha smile at the camera. The image is presented in dark blue tones. The text reads: Why I volunteer with teamhug
But where do I start?
When my alarm went off on the Saturday morning I was to volunteer with Suzanne Hug for the first time, the thought of knocking on strangers' doors was not appealing. But I had grown tired of complaining on social media about my elected officials and so I had signed myself up to actually do something. I ended up getting paired up with Suzanne herself. And what a stroke of luck, because this provided me the opportunity to find out why she had chosen this uphill task of running for office. Turns out Suzanne has some important things in common with me. She is a busy mom of two children. She, too, has been very upset watching our legislators act in their own interest. And – what sealed the deal for me - she feels very strongly about funding and fighting for public education. I watched her that morning interact with all kinds of people with natural enthusiasm and energy– and she listened and treated each with care, concern, and respect. This is exactly the kind of person we need in office, someone who welcomes conversation, someone who believes enough in herself and her ideals to do the hard work. She made me want to do the hard work. I went from knocking on doors that one Saturday morning to making calls every Saturday morning. I call my neighbors across LD25 to introduce them to Suzanne Hug and what she represents. I have also grown to understand how important our local races are. I know that this is where I can make the most difference: in my own community, just by being willing to have conversations with my fellow community members.
Doing what I can for my community
My own community has the same challenges with public education everywhere, though where I live it has been a little too easy to ignore them. Supporting public education is so important to me because my own public education was a defining experience. I attended very diverse public schools with students of many different ethnicities and backgrounds. My friends were Black, Korean, Filipino, Latino, Afghan, and Russian. My daughter attends our local public elementary school, which has a "good reputation." My daughter's teacher this past year was excellent and I watched my daughter bloom in her care. It is a good school. But it is also true that "good public school" often codes for something else, a place where parents are majority White or majority well off. A school's test scores have a lot more to do with the socio-economic status of its families than the care of its teachers or the intelligence of its students. I know better than to brag about the school's test scores. I know better because I have experienced another world, where test scores were abysmal, teacher turnover elevated and student dropout rates high. At age 21 I signed up to teach in one of my city's most challenging neighborhoods at a school that was made up of 90% Latino and 10% Black children, most of whom qualified for free lunches. I found myself there because experienced and fully credentialed teachers mostly chose to teach at less "challenging" schools. I fell in love with the job and with my students. I felt that I learned a lot more from them than they did from me, fresh out of my college diapers, and with no formal preparation to be a teacher. I also had zero understanding of the world in which my students lived, which though a mere twenty-minute drive from my home, was a nation apart from mine: food insecurity, relatives in jail, changing shirts from one block to the next to wear the right colors in the right territory, harassment by gangs and cops alike. My students would explain what their lives were like and when I looked horrified, disbelieving, they would say, "that's how it is."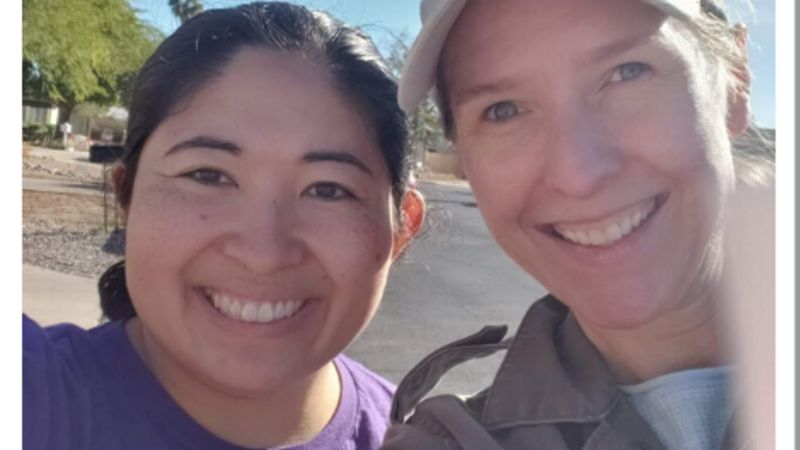 Image description: Suzanne Hug and Samantha smile at the camera on that first canvassing day.
I learned hard lessons – about my students' reality and my own white privilege, and that even though I had students who were more intelligent than I, their likely path did not include college and for far too many did not include finishing high school. I learned there were so many committed and talented teachers at the school where I taught who were looked at by the system as failures because of their student's test scores. And perhaps most importantly, I learned we do little to nothing to address the obvious systematic inequality which disadvantages primarily students of color. We have instead accepted it as a fact of life, to everyone's detriment – including our teachers. Systematic racism shows up clearly in our public schools and ends up perpetuated there since they are not equipped to respond to the needs of students who are not white and middle class. I had the privilege to leave that world behind. My students were stuck there. I think about that often. Given current events, with our rising collective consciousness about the connection between racism and the cycle of poverty, those memories of almost twenty years ago are at the forefront of my mind. When I left teaching, I swore I would find a way to make things better for students like mine. But the intervening years have left me at loss as to what to do that would matter. When there's so much to do, where do you start? When I hear Suzanne Hug talk about inclusive education, about the necessity of curriculum that thoroughly addresses our nation's ongoing struggle with race; when I hear her acknowledge that our teachers are not compensated enough for such critical work, I am so happy to be here and able to support her. Volunteering for her campaign is one concrete action I can take to make a difference for our most vulnerable students. I can help to elect a representative who is willing to tackle the challenges that have kept Arizona at 48th place in the nation in education spending and that have undermined the success of public education, a cornerstone of our Democracy. The road ahead for our state in addressing systematic inequality is long, but knowing there are people like Suzanne Hug with the courage to do the hard work is really empowering. She is running because she was taught not to be silent about issues that matter. She is running because she knows that representation matters – from the classroom to the halls of Congress. Here is where I start: volunteering for Suzanne Hug's campaign a few hours a week is me showing up for myself and for my community. I am so glad I made myself get out of bed that Saturday months ago and I am so proud to show my son and daughter – particularly my daughter – that we should not accept the world as it is, that we must do the work. Suzanne Hug is running to do the work when it comes to education and other critical issues affecting Arizona.
Start today! Click here to sign up to volunteer with #teamhug https://www.mobilize.us/suzannehugforhouseld25/