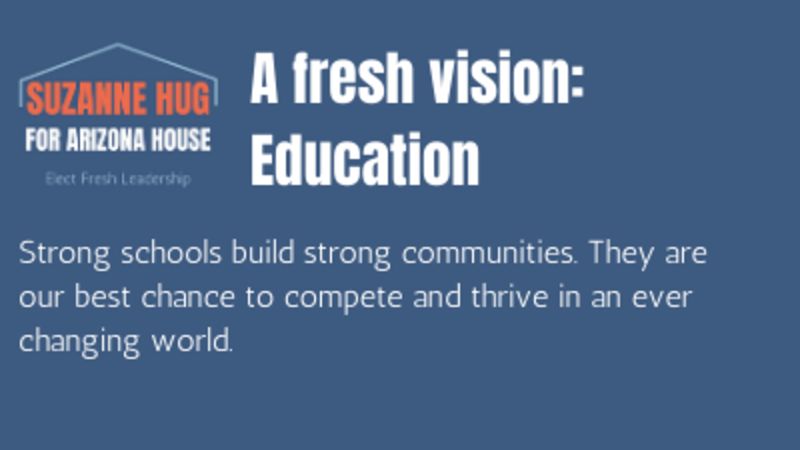 Strong schools build strong communities. They are our best chance to compete and thrive in an ever-changing world.
Our kids spend over 30 hours each week in Arizona schools that are critically underfunded and ranked 48th in the US. In 2008, during the financial crisis, Arizona made a huge mistake. Instead of increasing investment into education resources, we cut back, way back.
How are you going to attract good-paying jobs without a highly educated workforce? How are you going to support communities without technical and trade schools? How are you going to meet the challenges of the digital revolution without internet access for every student?
Education is not an option.
We have been selling ourselves short and politicians have been lying about school choice. Choice only exists when you have everything else in place to support it. Barriers, such as transportation, research time, nutritional needs, health concerns, and homelessness plague our communities. Those families have no choice, they need our public schools. It's about so much more than funding. This is also about freedom.
Our dedicated teachers deserve the freedom to teach and to be paid a living wage to do it. The state legislator has overreached time and time again into the classroom. It's time to get rid of ineffective testing and let those who know our kids best, give real evaluations and recommendations. *I want to give our schools the chance to offer multi-year contracts for teachers. *All support staff including bus drivers and custodians should make at least $15/hr*. Our educational system needs to evolve. We need fresh leaders who believe in science, innovation, and collaboration to make it happen.
Our schools don't help just those attending them, they help everyone in the community.
We need to acknowledge the important role schools play in our communities: *They provide meals for kids * They are recreation and gathering centers *Our schools provide information in times of crisis. *They are often our voting locations which welcome everyone. *Strong schools increase our property values and attract business. *Students provide countless hours of community service, such as roadside trash cleanups and visiting nursing homes.
Think back to your favorite teacher. Think of that moment of inspiration or revelation that helped make you the person you are today. Education is key to that American promise of opportunity, and it's time to fight for it.
On August 22, 2020, I hosted the virtual town hall "Focus on Education." The purpose of this event was to have a thoughtful discussion about what it means to Focus on Education.
The purpose of school is not to get the kids out of the house. The purpose of school is to build good humans who are capable of interacting with the world in a way that contributes to society.
To imagine the new normal for education, we have to agree on fundamental principles and the goals, and that is a conversation that leadership skipped over.
Watch the recording of this event, featuring Kiana Maria Sears as my special guest.
Kiana Maria Sears is running as an incumbent Mesa Public Schools Board Member. Check the "Get Involved" tab on the main menu to register for upcoming virtual town halls, fundraisers, and volunteer events.