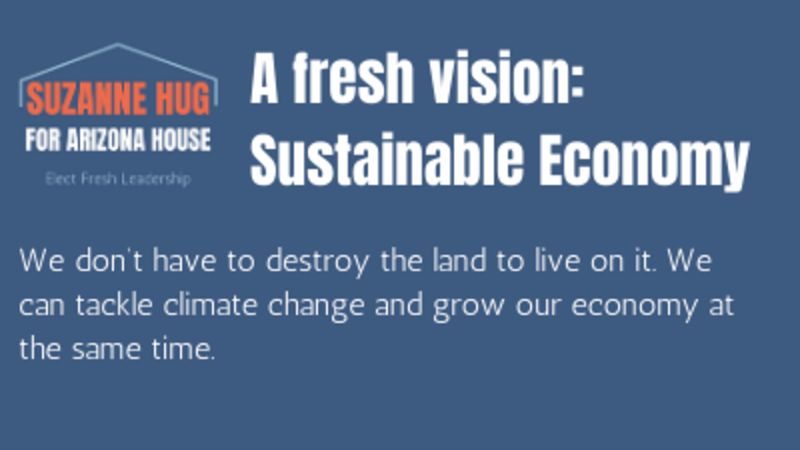 We don't have to destroy the land to live on it. We can tackle climate change and grow our economy at the same time.
I acknowledge, with respect -the geographical landscape of Maricopa County sits on the ancestral homelands of those Indigenous Nations that have inhabited this land for centuries, including the Akimel O'odham (Pima), Piipaash (Lehi), and Pee Posh (Laveen) peoples.
The vast majority of Arizonans came here from somewhere else. We chose this beautiful state, this land, to be our home. At the same time, I know that we are temporary travelers here. I want my children, and our future residents to inherit our state in a better condition than when we arrived.
It's not just a desire, it's a practical goal. Take our water table for example, maintaining and replenishing water is critical for life. Not just human life, but for plants, animals, and to maintain soil health. Ignoring the environment will subject us to raging wildfires, extreme drought, and chronic breathing problems.
It's not just what we have to lose that motivates me, it's what we have to gain.
Arizona should be the leader in solar energy. There are high paying jobs and technological advancements that come with leading the way.
Arizona should be the leader in water conservation and management. Countries around the world would study our systems and send their scholars to learn from us.
Arizona communities should all have broadband access. Not just every student, but our cities can become connected in ways only beginning to be possible. An inclusive and open innovation center, we could grow businesses that will be the envy of every major city in the US.
We need to shake off the rusty shackles of fossil fuels and oil barons. We need to reject the constraints of combustion engines and dangerous pipelines. Let's lead into the future in a way that builds our economy and sustains future generations.