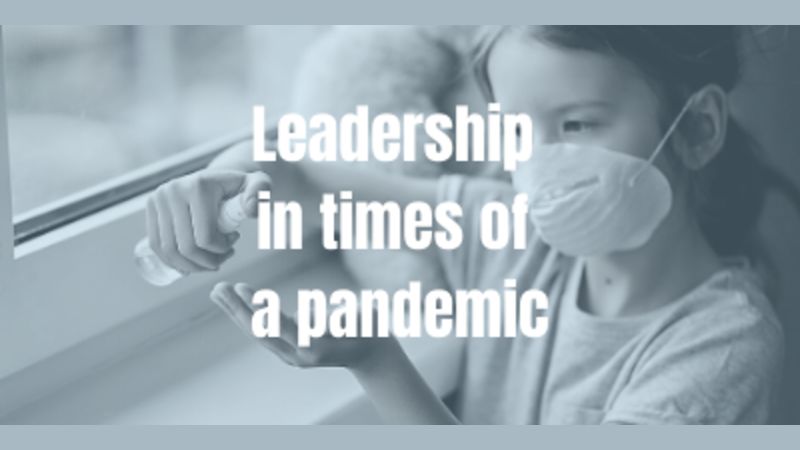 Our world is fundamentally changing. We need to acknowledge that and then build that new vision, lead by elected legislators who care about the people they represent.
(Blog post header image description: In the background a photo of a child inside their house, wearing a face mask and applying hand sanitizer to their hands, in light blue tones. The text reads Leadership in times of a pandemic.)
There is a pandemic sweeping our nation and exposing every ugly crack in our safety nets, healthcare, education, communication, and especially leadership.
In my previous job as a marketing manager at an insurance company, one of my duties was to write the disaster plan for my area. I spent out hours reviewing scenarios, assessing capabilities, and coming up with a comprehensive and practical plan to protect people and to keep business going. In that order: people always come before profits.
I'm disappointed that leaders who've been in office for several terms weren't more prepared. Even worse, they seem to lack the basic skills to handle events like this pandemic. I do want to take a moment to applaud Phoenix Mayor Kate Gallego. She took quick and decisive action. If Governor Ducey had followed her lead more quickly, I'm sure many Arizona's lives would have been saved.
I have seen so many acts of kindness during these dark times, that I know that we are going to come back. We will get through this together. I hope that we will be able to pick up the pieces and build our own vision of the future. I'm still hoping that we don't have a large number of losses. But in times like these, we need more than hope. We just can't afford to do it with the same old leadership.
Watch Suzanne Hug's position about leadership in Arizona during COVID-19 pandemic:
Our world is fundamentally changing. We need to acknowledge that and then build that new vision, lead by elected legislators who care about the people they represent. I am running for Arizona House of Representatives for LD 25, and I want you to be part of this new way forward. Learn more about me and what I stand for here: https://www.hugforhouse.com/about/