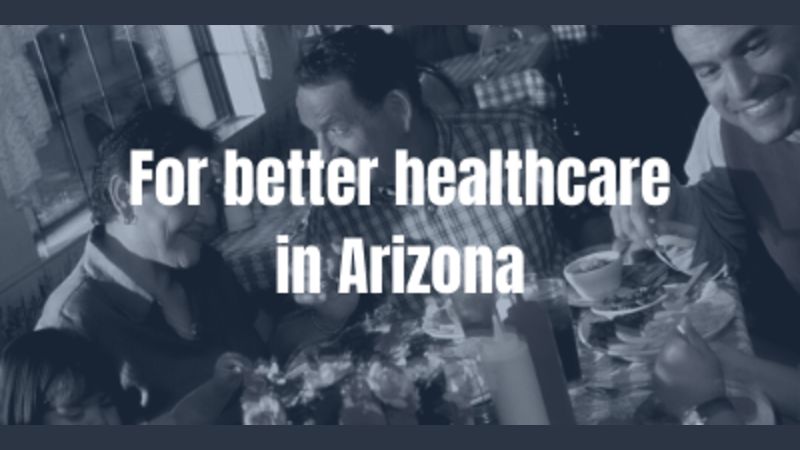 We need to put people's health at the center of our elected representatives' work.
(Blog post header image description: In the background a photo of a family sitting on a table sharing a meal. There are four people in the image: from left to right, a young child playing with a napkin, a middle-aged woman, smiling, holding hands, and looking into the eyes of a middle-aged man who smiles and looks back to her. At the write, a younger man smiling at someone that is not in the photo. The image is presented in grayish blue tones. The text reads for better healthcare in Arizona.)
For many of us, these times are scary. Not only are we in the middle of a pandemic that has taken hundreds of thousands of lives already, but our daily survival is also uncertain. Regardless of your source of income -small business owners, employees, and all who have recently lost their jobs or were furloughed, we are all worried about next week's bills.
Health care is one of our most important concerns. Having access to health insurance, availability of quality healthcare, and coverage of the services that take care of our physical and mental health, are the three keys to health care that takes care of us as part of this community.
When health insurance is binded to employment, the result of massive business closures is that people lose their coverage. Small business owners can't rely on their personal health insurance either, most of the funds they have available go directly to keep the business open. People covered by Obamacare are facing uncertainty as Republicans aim to dismantle it. And with unemployment rates hitting the 13% in Arizona (by early May 2020), thousands of families are facing the tragic situation of quarantining during a global pandemic with no health care coverage.
Quality healthcare is not yet accessible for all, even in regular times. Rural areas in Arizona do not have fully equipped hospitals distributed at a convenient distance from towns. Hospitals in urban areas in Maricopa County are overwhelmed even during good times before this crisis. Talking with members of our veterans community, I heard them talk about how they feel that the VA doesn't serve their needs.
Coverage of mental health has become as important as coverage of physical health. With a suicide crisis within our Veteran Community and our youth, the opioid crisis we face nationally and, recently added, the impact of the COVID-19 pandemic in different groups of our community, it's just not enough to have doctors to look at your throat and order bloodwork.
We, in Mesa, in Arizona, deserve to have leaders who are ready to step up to their duty. Who are able to plan and think about our futures as a whole. We need to plan to take care of our communities in the coming weeks, months, and years as we recover from this time of crisis.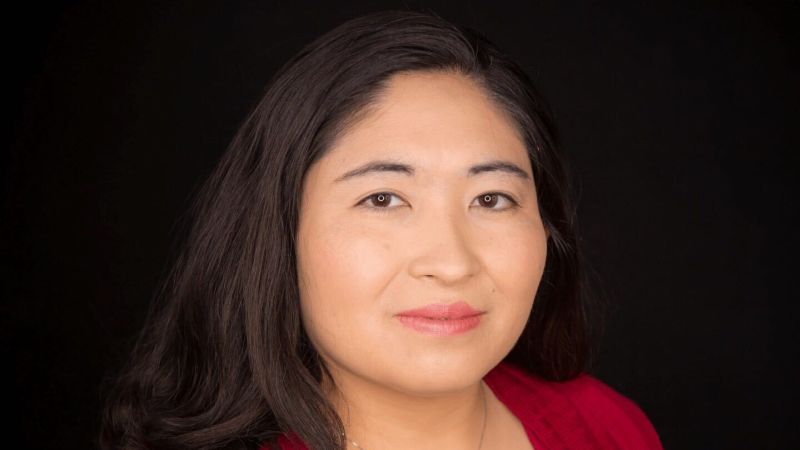 I was honored to receive Humanity Forward's endorsement because I really agree that we need to put people at the center of our recovery. Healthcare is instrumental for this recovery.
My approach has two parts: Get more professionals into the healthcare industry. Qualified, happy healthcare providers will care for our community, while good jobs will help get money flowing into our economy again. Legislate basic health care for all. A comprehensive legislation that includes access to health insurance, availability of quality healthcare, and coverage of the services that take care of our physical and mental health.
As an example, Arizona currently offers a state immunization program. Children under 18 years of age can get free vaccines. However, those free vaccines are only available at a few special clinics during 9:00 to 5:00, Monday through Friday type hours. Many families do not have the means of transportation or the work flexibility to get to the clinics. This means that their children don't get vaccinated. Even when this healthcare service is available through our taxpayer dollars, Arizona is failing to offer availability for the state's children immunization programs.
We have a service gap. We need to be expanding those programs and to create public and private partnerships that give access to quality healthcare for every neighborhood.
I support our doctors, nurses, and staff providing healthcare during the 2020 global pandemic. They deserve to get paid fairly for that hard work, not only now, but always. The government should work hand-in-hand to make sure that we're taking good care of our healthcare professionals, just as they are caring for our communities. We need to put people's health at the center of our elected representatives' work.
Join #teamhug and help us win the LD25 seat for Arizona House of Representatives in November. Learn how you can get involved here.