About Suzanne Hug
Suzanne Hug is data-driven and community-focused. She is running against the GOP Speaker of the House of Representatives in Arizona This seat has never been held by a person of color. LD 25 is located in Mesa, the 35th largest city in the United States. Suzanne Hug's focus is to fund Public Schools in Mesa, critical to facing the information age, and to providing youth with real opportunities to thrive.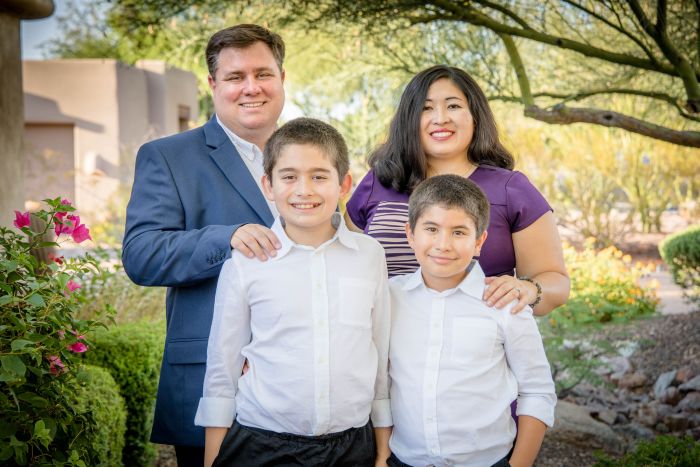 Suzanne Hug was born and raised in Salt Lake City, Utah. She could often be found helping her parents in their volunteer work. She was raised in the Roman Catholic Church and as a teen served as a Eucharistic minister. She volunteered with many organizations including the Japanese American Citizen's League, Knights of Columbus, Italian American Civil League, Catholic Women's League, and National Honor Society.
Whether it was serving tea to seniors, cleaning up public gardens, or raising money to save the rain forests, Suzanne has always put her heart into community and family. In addition to volunteer work, Suzanne's first job was as an executive assistant for her mother's Real Estate business. There she learned business communication, customer service, and contract negotiation skills. She also learned to listen deeply to each customer's needs and felt the satisfaction of a happy homeowner.
Suzanne chose Arizona State University for her continued education. She entered the Barrett Honors College as a Sophomore due to her diligent work during high school. She was quickly recruited to join the sisterhood of Sigma Kappa Sorority and continues to give back as an Alumnae.
Suzanne spent her summers traveling abroad to the UK, New York City, and finally returning home to SLC as an intern for Senator Orrin Hatch. There she learned about the constituent services and needs of the local community from a political perspective. Through her work answering phones and supporting the staff and Senator, she gained an inside perspective into the power of elected office for the common benefit. She earned her degree in Economics in three years.
After college, Suzanne was hired at Lincoln Heritage Life Insurance. She worked her way up from the Call Center to Management in just 4 years. She oversaw multiple departments over the subsequent 10 years. From this, she learned people management, how to have tough conversations and leadership. She earned an Associate of Customer Service and Insurance Agency Management designations.
Suzanne has been married to her college sweetheart, Mesa native Patrick Hug for nearly 15 years. They have two energetic sons and moved back to Mesa for it's excellent Public School system in 2013.
In 2017 Suzanne and Patrick started up their own family business on Main Street. They were both life long gamers and decided to turn their hobby into a business. Athoria Games LLC was founded and continues to foster a thriving and friendly gaming community. As Suzanne navigated the complex labyrinth of regulations and licensing she saw room for improvement in Arizona law. At the same time, hate crimes were on the rise, and being a volunteer no longer felt like enough. With her family's blessing, Suzanne is now running for Arizona State House in Legislative District 25.